Metiix Cloud Backup Service securely protects today's VM environments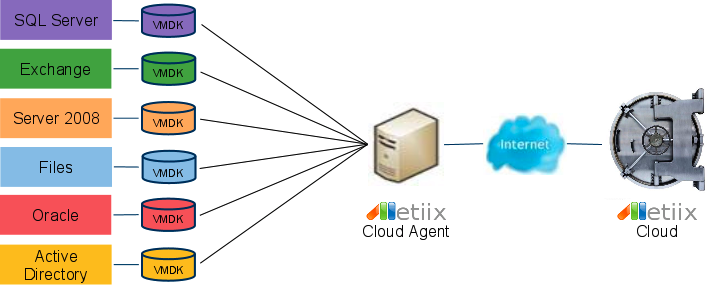 Metiix Cloud Server Backup Supports VM's
Live backup and restore of the VMDK for Disaster Recovery
Live Backup and recovery of SQL, Exchange, Oracle, SharePoint, Active Directory
Scheduled or continuous backup (CDP) of individual emails in Exchange, GroupWise, and Lotus Notes
Scheduled or continuous backup of files
Open file backup and protection
Support for 2008, Exchange '07 and '10, Vista, and Legacy OS
Support for Mac and Linux
Support for UNIX, Solaris, HPUX
Not only can the Metiix Cloud Agent reside on both physical and virtual machines, but it also supports backup/restore in Hyper-V, VMware, and XenServer environments, using their latest APIs, agent-lessly!
Traditional backup and recovery strategies are not adequate to deliver the granular recovery demanded by today's business. More important, the cost associated with traditional or agent-based technologies essentially negates many of the cost advantages of virtualization.
Metiix Cloud Services provides a robust feature set ideal for virtual environments. We enable the enterprise to maximize their virtualization strategy while achieving superior information protection and recovery management without performance degradation.
In virtual environments, The Metiix Cloud Agent can be deployed on a virtual appliance or a physical box
Simple to implement, operate, & manage
Metiix Cloud Services backup/recovery solution has been tested and certified on a wide range of virtualization platforms including:
VMware VSphere 4-6 ESX 3.0-6.1, ESXi, Workstation, and Server
Citrix XenSource
Microsoft Hyper-V
Parallels and Virtual Containers
VADP
Metiix Online Cloud Storage removes many of the traditional hassles associated with the protection and recovery of VMs. It meets new data protection requirements that VMware ESX creates by:
Discovering new guest VMs
Centralizing backup configuration and management
Minimizing initial backup job configuration and ongoing management
Providing support for multiple backup sets. E.g., VSS aware backup sets such as SQL, Exchange, SharePoint, etc.
Broad application and operating system support
By delivering the means to auto-discover guest VMs on individual virtual servers and coupling that with the agent-less backup of guest VMs using CDP, incremental or VMDK-based forms of backups, Metiix Cloud Services fundamentally changes how companies can protect their virtual environments going forward.
---
Modified over 6 years ago
Was this article helpful? Yes · No
---